Rejuvenate And Refresh With SKINVIVE™ At Garramone Plastic Surgery

At Garramone Plastic Surgery, we are excited to introduce SKINVIVE™ by JUVÉDERM®—an injectable that can help you achieve a revitalized, radiant appearance without needing extensive recovery. This versatile treatment is suitable for various skin types and ages and can be customized to meet your individual preferences. Schedule a consultation with us today to learn more about SKINVIVE™ and how it can assist you in attaining your desired aesthetic.
More information on SKINVIVE™ By JUVÉDERM®
How Does SKINVIVE™ Work?
SKINVIVE™ is an innovative skincare solution that harnesses the power of modified hyaluronic acid (HA) to enhance skin smoothness and increase hydration. As you age and are exposed to the elements, the natural hyaluronic acid in your skin—responsible for attracting moisture—decreases. SKINVIVE™ contains microdroplets of hyaluronic acid that can help counteract the effects of this decline, such as changes in skin texture and loss of radiance.
Unlike other injectable treatments, SKINVIVE™ does not alter your facial shape or volume. Instead, it works beneath the surface to promote healthier-looking skin that can glow for up to six months.
In clinical studies, patients who underwent SKINVIVE™ by JUVÉDERM® reported high satisfaction with the appearance of their skin. They noticed improvements in smoothness, hydration, and overall skin health. The treatment is swift, typically lasting about 15 minutes, and involves minimal downtime. In some cases, an optional touch-up may be recommended.
If you're searching for a convenient and effective way to enhance your skin quality, SKINVIVE™ by JUVÉDERM® may be the ideal choice. It is suitable for all skin types and tones and is designed to reduce fine lines and enhance cheek smoothness.
What To Expect During Your Session

SKINVIVE™ by JUVÉDERM® is a quick and convenient treatment option for enhancing the cheeks. The treatment sessions typically last about 15 minutes, making it a perfect choice for those with busy schedules. Additionally, you can easily fit this treatment into your lunch break with minimal downtime.
Our skilled injectors will administer multiple small injections of the product just beneath the skin's surface on both cheeks. SKINVIVE™ by JUVÉDERM® includes lidocaine, a common pain reliever used by dentists, to ensure your comfort during the procedure. While some people may need an optional touch-up, our team will work with you to achieve your desired results.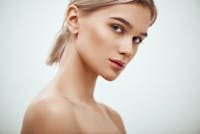 SKINVIVE™ Results And Aftercare
After the treatment, patients can expect immediately noticeable hydration, with full results becoming more apparent over the following weeks. The effects of SKINVIVE™ by JUVÉDERM® can last up to six months, depending on the individual and the area treated. The treatment is generally well-tolerated, with minimal discomfort reported by most patients.
It is essential to follow proper aftercare instructions to ensure optimal results and minimize the risk of complications. For example:
Avoid touching or rubbing the treated area for at least 24 hours after the procedure
Avoid strenuous exercise or exposure to extreme temperatures for at least a week
Avoid alcohol and blood-thinning medications for at least 24 hours before and after the treatment
Experience Hydration Like Never Before With Garramone Plastic Surgery

Choosing the right provider for your SKINVIVE™ by JUVÉDERM® treatment is important. At Garramone Plastic Surgery, we pride ourselves on providing exceptional patient care and results. Our team of skilled injectors has extensive experience in administering JUVÉDERM® products and will work with you to create a treatment plan tailored to your unique needs and goals.
In addition to our expertise, we prioritize your comfort and safety throughout treatment. We're committed to providing you with the highest level of care and achieving the best possible results for your SKINVIVE™ by JUVÉDERM® treatment. Contact us today to learn more.