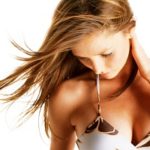 Women choose to have breast augmentation for a number of different reasons, but the primary reason is to improve the appearance of their breasts. However, simply increasing volume may not always do the trick, especially if the goal is to gain a more aesthetically pleasing appearance.
For women with ptosis, a condition where the breasts droop significantly, it's next to impossible to lift the breasts with just implants. There is also the possibility that the implants will cause the breasts to look droopier than they already do.
So, what's the solution for women suffering from extreme ptosis?
Well, the solution is a procedure that combines both, a breast augmentation and a breast lift. It's known as an 'Augmentation Mastopexy' and what it does is help create breasts that are placed higher and appear fuller and firmer.
The average woman's body goes through a series of changes over time. A lot of these changes are reflected in the way the breasts appear. Pregnancy, weight gain, nursing, and weight loss are some of the contributors here.
During pregnancy, the breasts become enlarged due to fat deposition, milk production, and hormonal changes. This causes the skin and tissues to expand as a result. The expansion and stretching are quite severe and more often than not, the breasts do not return to their original form.
This causes the breasts to develop a deflated, saggy appearance. To improve their appearance, implants are inserted. These implants improve the definition of the breasts. However, an additional procedure will be required to relocate the nipples to a higher level. The same is done for the breasts as a whole. This additional procedure is what we call a breast lift.
Combining Both Procedures is Ideal for Women with Busy Lives
A breast augmentation-lift is a practical option for women who lead busy lives. Most women seeking out this procedure are in their 20s and late 40s. These are women who typically lead busy lives, managing their children's needs and household duties while working a full-time job.
So, finding time for recovery can be quite difficult for these women when two procedures are involved. However, with a combined procedure, the recovery time drops down significantly.
The time required for healing after an augmentation-lift is no more than what would be required for an individual procedure. This makes the combination of augmentation and lift one of the most efficient procedures out there.
Save Money with an Augmentation Lift and Get the Body You Want
A combined breast augmentation and lift procedure is also cost effective. Saving money is obviously a consideration for women that choose such procedures. After all, the costs associated with such procedures aren't low.
Women undergoing the procedure also benefit from having an increase in size while improving the shape and proportions of the breasts. It provides a comprehensive boost in one's aesthetic appeal.
Contact Our Office
At Garramone Plastic Surgery, we believe in helping people look and feel their absolute best. If you're interested in learning more about combining a breast augmentation with a breast lift, contact our Fort Myers, Florida office to schedule your initial consultation today!