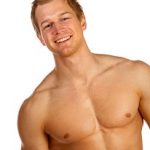 Male Breast Reduction Surgery Offers a More Masculine Chest
Developing enlarged male breasts, a condition known as gynecomastia, can be caused by an hormonal imbalance. When testosterone levels drop lower than estrogen levels, one of the common effects is the development of male breasts.
Gynecomastia can also be caused by certain medical conditions. It could be hereditary or caused by certain medication. The condition can be quite embarrassing and even traumatizing for a man. If gynecomastia is a real cause for concern in your life, then there is always the option of breast reduction surgery.
How Does Male Breast Reduction Surgery Work?
Male breast reduction surgery is a cosmetic surgery procedure that needs to be carried out by a qualified cosmetic surgeon. If you wish to undergo the procedure, you need to consult with a reputed practitioner and find out the best treatment for your condition.
Keep your doctor informed of any pre-existing medical conditions you might have and any medication that you might be taking. Also be sure to inform your doctor about any allergies you might suffer from.
The procedure can be performed in your doctor's office as an outpatient procedure. An anesthetic will be applied before the procedure to help you feel more comfortable during the surgical process.
During the surgery, your surgeon will make an incision around the edge of the areola to gain access to the underlying tissue. He will then remove excess fat and glandular tissue to reduce the size of the breasts. The incisions will then be sutured. Non-dissolvable sutures will have to be removed in a week to ten days.
After the surgery is completed, you will be required to wear a compression garment to help the chest contour to its new shape. Vigorous physical activity needs to be avoided for two to three weeks after the surgery to ensure proper healing.
Are There any Risks Involved in the Surgery?
There are no known major risks to the surgery. However, as with every surgery, it is important to carefully follow the after-care instructions provided by your surgeon. Some amount of pain will be experienced in the operated area which can be resolved with over the counter painkillers.
Swelling and bruising around the site of the surgery are a normal side effect and take a few days to a week to heal completely.
If you do experience any redness or discharge at the site of the incisions, contact your doctor immediately. Any infection can be treated with a course of antibiotics and will clear up quickly.
Recreational drugs, drinking excessive amounts of alcohol, and steroid use can cause the development of male breasts. To experience long lasting results, it is best to avoid these substances.
Male breast reduction surgery has dramatic and visible results that will leave you feeling masculine and confident. Once the healing process is complete, your chest will appear flatter and more defined.
To ensure the long-term effects of the surgery, patients are advised to maintain a healthy lifestyle. A good diet and sufficient exercise should help keep the manly appearance of your chest while also improving overall health.
Learn More About Male Breast Reduction
Contact our office to learn more about male breast reduction. During a consultation with Dr. Ralph Garramone, you can ask any of the questions you have about the procedure and find out if you will make a good candidate.