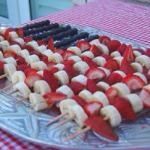 Fruit Flag Platter
4th of July Holiday Fruit Kabob:
Ingredients: Quantities vary depending on size.
12 wooden skewers
15-20 strawberries cut into quarters
10 bananas
1 pack blueberries
Directions:
Cut strawberries and bananas with approximately the same thickness.
6 skewers:
Start and finish with strawberry.
Alternate with strawberry and banana only.
Count the number in total. (You will want to use the same number of rows for each skewer.)
Lay skewers to the right of your plate.
6 skewers:
Start with the blueberries. Add approximately 6 blueberries in a row.
Based on where the fruit lines up with the first 6 rows begin adding the matching fruit type.
Add alternating fruit (bananas and strawberries).
End with a strawberry.
Lay skewers to the left of your plate.
You now have the American Flag!